Hankarron Eros II (Hank) is the only child of Hankarron Eros I and Elisen Allistor. A lifetime Central Agent, Hank is currently the Captain of the Zera and runs missions for Central under advisement from Director Jehdra Szina. He likes just about anyone who isn't trying to kill him. With a bounty on his head, the number of people he doesn't like increases daily. Still working on learning how to be a tactful Captain for Central's convert missions, he has a tendency, as Director Jehdra Szina likes to point out, to hide out in the open while blowing shit up. He wants to learn, however, and he wants to prove himself worthy of the legacy his Uncle Jhonis left behind.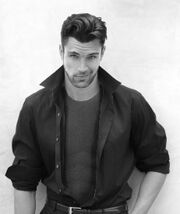 Appears in:
Ghost In The Machine
Whispers From Exile
Tracing The Stars

Race/Origin: Corwint
Gender: Male 
Occupation: Captain, Central Agent 
Age: 28 
Height: 6' 2" 
Eye Color: Brown 
Hair Color: Brown 
Quote: "Love is like a wormhole. You stumble on to it blindly, it sucks you in and takes you somewhere completely unexpected, but you sure have one hell of a ride." 
Soundtrack: Muse - Butterflies and Hurricanes
Ad blocker interference detected!
Wikia is a free-to-use site that makes money from advertising. We have a modified experience for viewers using ad blockers

Wikia is not accessible if you've made further modifications. Remove the custom ad blocker rule(s) and the page will load as expected.