Trenton Mathis joined Central because a judge gave him no good alternative. It was either clean up and fly straight or fly right into a juvenile labor camp on Borean Three. Central didn't turn out to be so bad, and when he spotted Jehdra Szina on the first day orientation, he thought becoming a Central Agent might actually be fun. Despite a promising start, Trent left Central Academy without even saying goodbye to the girl who stole his heart. Spending the next years as a smuggler and helping set up the Chronos One space station, another run in with Jehdra changed the course of his life again. Never one to argue with Fate, Trent flies by the seat of his pants and takes everything in stride. He now spends his days as a munitions dealer and other hard to get items on the Chronos One station, when he isn't trying to convince Jehdra to finally marry him, that is.  
Appears in:
According To Plan
Whispers From Exile
Race/Origin: Corwint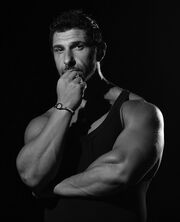 Relationships: Long term relationship with Jehdra Szina . Father of Jennadri Szina
Gender: Male 
Occupation: Munitions Dealer, Chronos One 
Age: 62 
Height: 6'0 
Eye Color: Hazel 
Hair Color: Dark Brown 
Quote: "Everyone's got to make a living, and not everyone wants to spend their life taking orders."
Soundtrack: The Trews - Poor Old Broken Hearted Me
Ad blocker interference detected!
Wikia is a free-to-use site that makes money from advertising. We have a modified experience for viewers using ad blockers

Wikia is not accessible if you've made further modifications. Remove the custom ad blocker rule(s) and the page will load as expected.